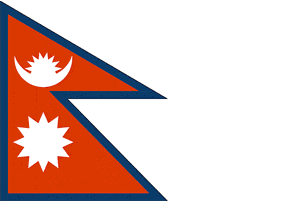 Our TEFL course in Nepal is based in the country's capital city, Kathmandu. As well as being the country's capital city, it is also the largest and most developed city in Nepal, with a population of over half a million people. The city is home to a wide variety of ethnic groups, one of the largest being the Newars who are famed for their skills as craftsmen and traders. In fact, it is the importance of Nepal as a trade route between India and Tibet that has led, in part, to the country becoming popular as a tourist destination.
According to ancient folklore, the city was originally designed in the shape of the Khukuri knife, a traditional weapon and tool made famous by the legendary Gurkha soldiers. Durbar Square is located at the 'handle of the knife' and is surrounded by temples, monuments and the Royal Palace. From here the city's oldest districts flow to the southwest and the northeast, while the city's most popular shopping district, New Road, stretches to the east of the square. Here you will also find much of the city's budget accommodation, in the areas of Thamel to the north and Jhochhen (known as Freak Street) to the south of Durbar Square.
Kathmandu's suburban areas lie mainly to the east of Kantipath, the main north-south road; this area contains some important landmarks, namely the Royal Palace and the Tundikhel (parade ground). Stretching south from the palace gates you will find Durbar Marg, a wide thoroughfare which is the main location for the city's more upmarket hotels and restaurants. Another sight to look out for is the Temple of Swayambhu. The temple is perched on top of a hill to the west of the Bishnumati River and can be reached on foot.
As anyone who has ever visited Nepal will tell you, it is undoubtedly a magical place. The country is widely known for its location amongst the awe inspiring peaks and foothills which make up the Himalaya mountain range. However, Nepal is also blessed with a warm hearted and welcoming population, an endless array of ancient temples and a surprisingly diverse landscape which offers some of the best hiking opportunities anywhere in the world. Although Nepal is far from being a rich country in a financial sense, this wonderful mix of people, culture, history and natural beauty make it seem incredibly rich indeed.
All in all, the country of Nepal has something for everyone to enjoy, from the magnificence of the mountain ranges, to the bustling street markets of Kathmandu, every visitor will find something about Nepal that will stay with them forever. As the country is home to eight of the ten highest mountains in the world, it is fair to say that Nepal is truly the top of the world.
Apply Now!